I adore these fleur de lys glasses. I think having the taller glasses in one color and a smaller size in another color would look great mixed together. The glasses from both Anthropologie and World Market are imported, glass, and come in a variety of colors; though not all of the colors are available in all the sizes. However, not only are the World Market glasses cheaper, but they also come in three sizes as opposed to Anthropologies two (both small) sizes. The Anthropologie glasses have to be hand washed, whereas, the World Market glasses are supposedly dishwasher safe, though I should also point out that many of the reviews suggest hand washing the glasses from World Market.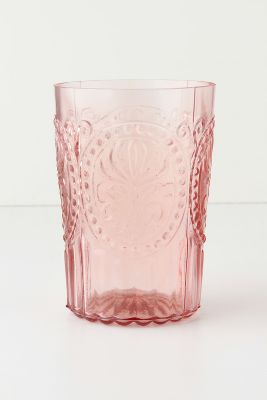 Fleur De Lys Glasses $32 for a set of four, available in Yellow, Amber, Clear, Pink, Red, and Green at Anthropologie.
Noble Morn Glasses $6.00 each, available in Dark Yellow, Clear, Pink, and Green at Anthropologie.
Fleur de Lys Barware, Sets of 4, $11.96 - $15.96, available in Clear, Green, and Blue at World Market.
Pink Fleur de Lys Barware $2.99 each for highball or double old fashioned 10 oz. sizes at World Market (in stores only).